Welcome to See Around Britain
---
The main feature of this website is the interactive map of venues around the UK and Europe with a focus on accessibility information.
The website also has useful accessibility options which can always be found by clicking the disability icon in the top right of the navigation. Here you can change the language, font size, colour scheme and view additional helpful information.
Please see the 2-minute film at https://www.youtube.com/watch?v=DvkIfqpJXuI
Venues are continually being added and updated. We are also working to improve website functionality and add new features.
Please note: By using this website you are agreeing not to infringe the copyright in any way, or make copies of any photograph or description
About/Help/Volunteer with Us
See Around Britain & See Around Europe form a huge photo gazetteer throughout the UK and Ireland and mainland Europe, designed for everybody, including disabled people, to help decide if a venue will be suitable for visits.
Everything from transport access to washroom facilities can be viewed in a series of photographs of each venue. View the accessibility before you plan to visit or arrive at the venue.
To date our small disabled/pensioner-run charity has received no public funds for this work. Its trustees work voluntarily with a very small team of data inputters. We urgently need volunteers to enlarge the team to work on our wide range of photographs that need to be uploaded to the website with descriptions for their venues.
The charity also needs volunteers photographing additional venues in their local area and Admin Support volunteers.
For more volunteer information please go to About/Help Us.
Specific Country / Region
Click here for the relevant Key Facts to assist users for each Country or region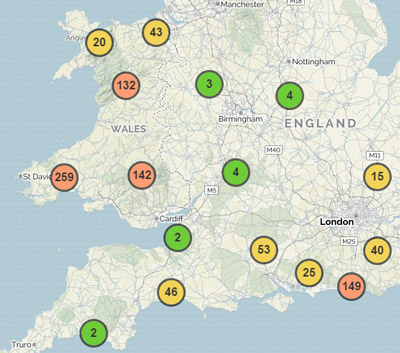 View Map
Tips for using the map
If you allow the use of your location the map will automatically attempt to center on your location
You can zoom in and out of the map using your mouse scroll wheel, touchscreen gestures (pinch with 2 fingers) or the + and - icons in the top left of the map.
You will see coloured circles with numbers in them displayed on the map, which denote the number of venues in the area. While zoomed out they are clustered like this to prevent clutter and overlapping icons. As you zoom in they will break up into individual icons for each venue. You can also click on them to zoom in to the next level.
By clicking or touching on a venue icon you will see the venue's name and a thumbnail photograph (where available). Touch on this to inspect the venues photographs, accessibility information and other descriptions.
All the photographs can be enlarged by clicking or touching them.
The charity has produced Key Facts to assist users about each specific Country and Region, which can be accessed by clicking here